Winning SEM Images at the International Metallographic Society
November 8, 2017 – Sheri Neva of EAG Laboratories recently received three awards for her Scanning Electron Microscopy (SEM) images at the International Metallographic Society, held in October 2017. The winning SEM images highlight Mrs. Neva's artistic perspectives and high-resolution images from metallic materials.
In her role at EAG's Los Angeles laboratory, Sheri applies both SEM and Auger techniques for investigating product failures and identifying materials, primarily for metallurgical analyses.  SEM offers high-resolution and high depth-of-field images of sample surfaces. "I am captivated by the beauty that I find in my work and love to share that with everyone," she explains. "Congratulations to Sheri," says her supervisor, Dr. Arun Kumar, "She has produced some fascinating SEM images of materials with unique and artistic ways of presentations."
Here are the winning entries, along with a brief description of the materials and techniques.
Winning First Place in Class 4 – Artistic Microscopy Color, this image is of Stainless Steel Dendrites, at 85x. Color was applied with an alcohol paint overlay on Yupo translucent paper, then into Photoshop. The painting was overlaid on the dendrites SEM image.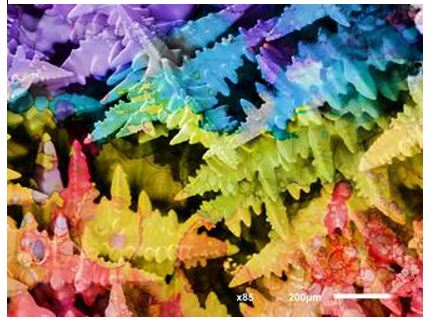 For winning First Place, in Class 5 – Artistic Microscopy Black and White, Sheri melted down an old lead bullet, tin bar stock and bismuth. After swirling the melted tin lead mixture, she allowed it to cool on ice. This image was created from an Sn 59 Pb 38 Bi 3 alloy. SEM image at 1000x magnification.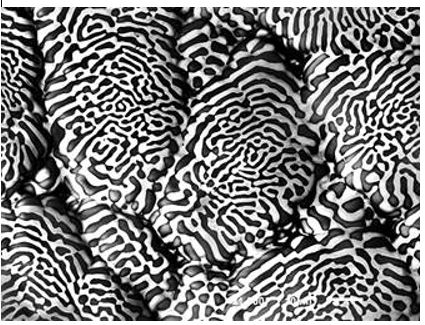 Sheri also won Third Place in this division, with the black and white image of tin lead dendrites found on the surface from the melted materials in the previous image. This image is 350x magnified.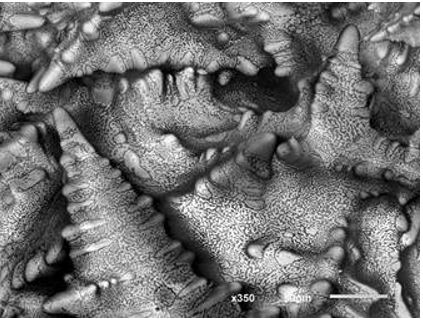 All SEM images were captured on the JEOL 6610LV Scanning electron microscope.